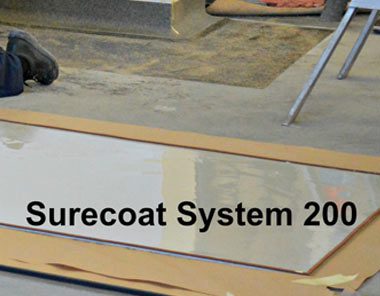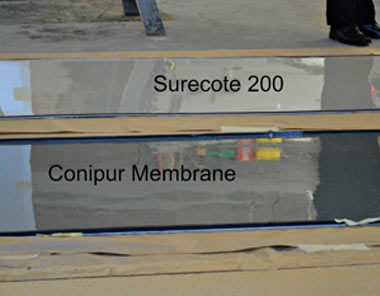 Surecote 200 Solvent-Free Epoxy Floor Coating
Two-part epoxy coating, solvent free.
Gives a high build, glossy coloured coating with good wear resistance and durability, quick drying and very good adhesion.
Very good surface smoothing properties.
Self-Levelling.
Suitable for application to a wide variety of floor substrates; usually concrete but including timber &, steel.

Good filling properties to smooth out pitted floors to give an even appearance.
Excellent resistance to a wide variety of chemicals and petroleum products – refer to chemical resistance chart.
Very good abrasion and scuff resistance.
Good flow properties to help even out imperfections.
Solvent free, no odour
Tolerant of application to a slightly damp surface.
Finish reduces glare and reflection
Surecote 200 has good resistance to a wide variety of chemicals with no fumes and is ideal for use in industrial, commercial, domestic, retail environments i.e:
Retail shops and commercial applications
Pulp and Paper Mills
Refineries
Seamless, smooth hygiene floors
Sewerage Treatment plants
Food processing plants; food storage
Vehicle workshops
Construction and mining industry
Warehouses
Retail and display areas; vehicle showrooms, studios
Ablution areas
Residential garages and workshops
Chemical and oil industry
Silos
Pharmaceutical & cosmetic clean rooms; smooth hygienic finish.
Slip resistant floor finishes